Talk about an impressive feat: Taylor Swift has been named Entertainer of the Year... for the second consecutive time!
Following the Associated Press honoring the singer with this distinction in 2009, Entertainment Weekly has done the same for 2010.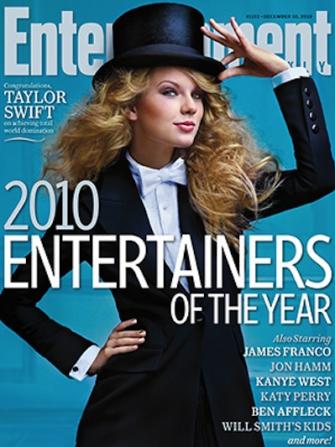 What has Taylor done to earn this title from EW? Only begin the year with a number-two single debut ("Today Was a Fairytale"), a hit movie (Valentine's Day), and a quartet Grammy wins, including Album of the Year.
She also headlined a series of arena concerts and sold over one million copies of the album "Speak Now."
Swift also created a stir for supposedly penning songs about ex-boyfriends such as Taylor Lautner, Joe Jonas, and John Mayer. Her response to that talk?
"Sometimes I would laugh because I would see it in print and it would say, 'This song, which is written about her ex, so-and-so…' And they would write about it as if it was fact. The fact is, I haven't ever confirmed that any song is about any particular person."
Among other Entertainers of the Year, as shown on various covers below? Rico Rodriguez, Jane Lynch and Jon Hamm.
Danneel Harris Gisele Bündchen Carla Campbell Michelle Branch Dita Von Teese